Long-Term Care at Isabella Center
More Than a Nursing Home
A World of Care with the Warmth of a Small Neighborhood
If your loved one can no longer live independently for extended periods and requires medical attention, our long-term care option at Isabella Center is an excellent choice. Isabella goes beyond being just a nursing home by providing specialized medical care, a range of quality-of-life programs for our residents, and a secure and compassionate environment for individuals in all stages of dementia. In addition, we are able to offer palliative and hospice care when the time comes. We understand the added responsibility of caring for a loved one, which is why we also provide respite care for caregivers who cannot provide care for short periods.
Nestled in Northern Manhattan, Isabella creates a community atmosphere where residents and staff foster deep bonds through close-knit relationships.
Contact Isabella Center
For more information about any of our specialized care services, please get in touch with our admissions office at 212-342-9245 or send us a message.
Learn More About Long-term Care Services at Isabella Center
Our Care Team works closely with each resident and family to create and implement a customized plan of care that will meet clinical, social and psychological needs while taking into account individual preferences or limitations. Depending on each resident's needs, our Rehabilitation Therapy Team will develop and supervise a customized plan to enable the resident to gain optimal functionality.
Our Social Services Team keeps a finger on the pulse of everyday life. Meeting with residents, family members and staff regularly ensures that specific needs and expectations are met.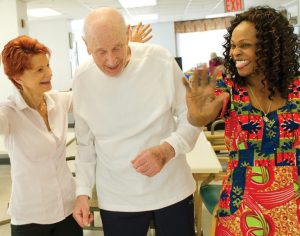 Isabella offers a safe, caring environment for adults at all stages of dementia or Alzheimer's disease. Our dementia program is nationally accredited by Comfort Matters and encourages personalized care for residents with dementia. This program offers individualized dining experiences, culturally sensitive programs, flexible bathing and living schedules, 24-hour visiting options, etc.
Our therapeutic programs make the most of each individual's physical and cognitive abilities, imparting a sense of security and self-esteem. We encourage residents to join various day and evening activities, from cognitive group games to dancing, to one-on-one sensory stimulation and aromatherapy. We also hold supervised cooking classes with the participation of the residents' caretakers and professional staff. Our personalized music therapy program allows residents to relive memories of enjoyable past experiences.
Isabella has two home-like rooms, each with a private bath, dedicated to Respite Care for adults who need skilled nursing care for a short period.
These adults can benefit from a Respite Care stay of up to 30 days in our warm, caring environment while the caregiver receives time to tend to their own life, family or business.
To qualify, the individual must:
be age 18 or older
be under a physician's care for chronic or acute medical illness
be medically stable and free from infectious disease
provide a current medical history and results of a recent medical exam
There's a good reason that our "vent unit" has been named "Breath of Life." It's not the respiratory support equipment; it's the attitude of our staff and the gratitude of our residents and their families.
We have been providing ventilator and respiratory care for over 25 years. Our objective for residents in Ventilator Dependent Care is to wean them gradually from mechanical ventilation to independent breathing. Working closely with Isabella's rehabilitation services, residents are encouraged to do exercises that may help them use oxygen more efficiently.
We have 36 certified ventilator-dependent beds, 40 respiratory transition beds, and a specially trained interdisciplinary team of professionals to treat, monitor and assist each resident. Our staff consists of two board-certified pulmonologists. Our certified respiratory therapists provide comprehensive respiratory care.
Highlights of our 24/7 Ventilator Dependent Care include:
Portable vents: allowing movement away from the bedside and participation in our newly renovated Center for Rehabilitation
Non-invasive testing: techniques for accurate measurement of blood oxygen levels without having to draw blood each time
Speech and swallowing expertise: to evaluate each resident's specific conditions to retrain their abilities to speak and swallow and provide devices to restore these functions to the maximum level
Rehabilitative services: to encourage exercises that help residents use oxygen more efficiently
Therapeutic recreation specialists: to provide music that adds sensory stimulation
Isabella's Palliative Care program offers comfort and support to residents with serious or chronic illnesses. Our Palliative Care Team works with the resident and family to provide an individualized program to relieve pain and other debilitating symptoms. We aim to ensure that the resident experiences the highest possible quality of life — free of pain and discomfort.
Isabella's Palliative Care Team comprises doctors, nurse practitioners, nurses, social workers, nutritionists, rehabilitation and recreation therapists, and pastoral care professionals. Volunteers also play an important role in assisting with our Palliative Care efforts. Together, the Palliative Care Team works with each resident and their family to develop a plan of Care that is ideally suited to meet each resident's needs.
Palliative Care helps everyone. Family members, staff and volunteers all benefit from the communications and support that the Palliative Care program provides.
Participants in our Palliative Care program can expect the following:
Expert treatment of pain and other symptoms
Consistent and clear communication
Knowledge and guidance in making appropriate treatment choices
Emotional and spiritual support
Our varied activity programs offer various stimulating social, cultural and educational programs.
The spiritual needs of residents are also very important. Pastoral Care at Isabella offers various services and programs to meet each resident's denominational needs and preferences.
"It has been such a terrific experience…dealing with staff at Isabella. I cannot stress enough how wonderful everyone was. It truly felt like being 'with family.' The nurses and CNAs took time to make sure that every pillow was placed the way Bill liked it and their patience was outstanding."
-Wife of Isabella Center Resident
Frequently Asked Questions