A World of Services with the Warmth of a Small Neighborhood
As a resident of Isabella, one can enjoy the robust array of services that a large center can provide but with a small, tight-knit family feel.
Everything we do reassures the caregivers that their loved ones are in skilled, secure, helping hands. For more information about any of our specialized care services, please contact our admissions office at 212-342-9245 or send us a message.
Our Isabella Center offers the experience of living in a community where residents and staff cultivate the deep bonds that come from knowing each other very well. Families and loved ones also play an important role in shaping the life of our community.
It starts with our Social Services Team who manages all aspects of life and keeps a finger on the pulse of everyday life. Meeting with residents, family members and staff on a regular basis, they ensure that specific needs are being met and expectations are being satisfied.
Our Care Team works closely with each resident and family to devise and implement a customized plan of care that will meet clinical, social and psychological needs while taking into account individual preferences or limitations. Depending on each resident's needs, our Rehabilitation Therapy Team will develop and supervise a customized plan to enable the resident to gain optimal functionality.
Our activity programs are quite varied, offering a wide range of stimulating social, cultural and educational programs.
The spiritual needs of residents are also very important. Pastoral Care at Isabella offers a wide diversity of services and programs to meet each resident's denominational needs and preferences.
We know that everyone's needs are different, which is why we also offer specialized care for residents who are living with dementia, are dependent on a ventilator or need help managing symptoms due to an advanced illness. We also offer Respite Care for caregivers who are unable to provide care for short periods of time.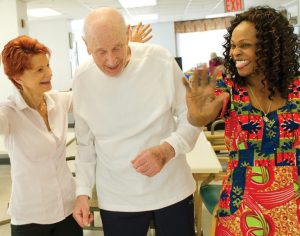 Isabella offers a safe, caring environment for adults at all stages of dementia or Alzheimer's disease. Our dementia program is nationally accredited by Comfort Matters and is an award-winning program that encourages personalized care for residents with dementia. This program includes offering individualized dining experiences, culturally sensitive programs, flexible bathing and living schedules, 24-hour visiting options, etc.
Our therapeutic programs make the most of each individual's physical and cognitive abilities, imparting a sense of security and self-esteem. We encourage residents to join in a wide range of day and evening activities, from group cognitive games, to dancing, to one-on-one sensory stimulation and aromatherapy. We also hold supervised cooking classes with the participation of the residents' personal caretakers as well as professional staff. Our personalized music therapy program provides an opportunity for residents to relive memories of enjoyable past experiences.