Welcome to Menorah Center
Brooklyn's last not-for-profit Jewish nursing home provides short-term, subacute rehabilitation and long-term nursing care.
Located on ten beautiful acres in Manhattan Beach, Menorah is an award-winning 436-bed center featuring two specialized wings; The Mollie and Jack Zicklin Hospice which offers Menorah residents diagnosed with a life-limiting illness the opportunity to reside in one of the 16 suites, which provides expanded space for family and friends to spend quality time together. It also offers the MJHS Memory Care Residence, an 80-bed unit for individuals with advanced forms of dementia.
Menorah has been rated three stars overall by CMS.
We invite you to visit our center, walk the grounds and speak with our staff, patients and residents. Our core values — compassion, dignity and respect — are evident in all we do. If you cannot visit us in person, we urge you to take a virtual tour.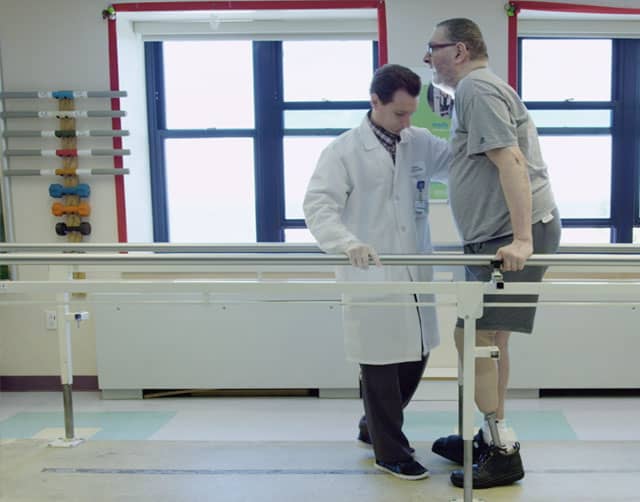 If you have been recently released from a hospital due to surgery, injury or stroke and are looking to take the next steps in your rehabilitation, there is no better place to get on the road to recovery than at Menorah Center. Our subacute rehabilitation program provides short-term therapeutic services in a state-of-the-art center.
Our rehabilitation therapists are New York State-licensed and registered physical therapists, occupational therapists, speech and swallowing pathologists and audiologists. Our attentive, experienced professionals are committed to helping you develop the skills you need to resume normal activities so you can get back to doing the things you love as quickly as possible.
Round-the-clock- long-term care
Our outstanding skilled nursing center provides round-the-clock personalized long-term care for those who can no longer live safely on their own.
Menorah provides our residents with a home away from home that offers medical and emotional support, specialized programs, a stimulating social environment (great food) and a community built on respect. Each resident is assigned to a physician who develops a comprehensive plan of care. Depending on the resident's needs, we can provide palliative or hospice care, post-surgical wound care and a variety of other therapies to help residents maintain their independence.
The residents can also count on an interdisciplinary team of professionals from diverse fields.
Primary Care Physicians
Nurses
Case Managers
Physical and Occupational Therapists
Speech and Swallowing Pathologists
Respiratory Therapists
Recreational Therapists
Post-surgical Wound Specialists
Dietitians
Social Workers
Discharge Planners
Our nursing staff plays a critical component in the care of our residents. Every floor has a nurse manager who supervises the floor's activities and the daily clinical aspects of residents' lives. Each resident's long-term care plan is customized to meet their needs and preferences and is delivered round-the-clock by our skilled nursing team.
Our nursing staff includes:
Nurse managers
Registered nurses (RNs)
Licenses practical nurses (LPNs)
Certified nursing assistants (CNAs)
Convenient On-site Care  Menorah has an on-site health clinic staffed by knowledgeable and experienced licensed professionals. This offers ease and convenience when scheduling appointments and avoids the disruption that can accompany transportation to off-site physician visits. On-site specialists include:
Orthopedists
Podiatrists
Ophthalmologist
Cardiologists
Psychologists
Dentists
The MJHS Memory Care Residence at Menorah Center is an 80-bed unit for individuals with advanced forms of dementia. It has been specifically designed to cater to individuals with Alzheimer's disease or other forms of dementia. It provides specialized care and services to promote safety, well-being and quality of life for residents with memory impairments. The residence offers a structured environment with trained staff, specialized therapies, and activities tailored to meet the unique needs of individuals living with memory loss.
Our care teams seek to empower and reconnect all memory-impaired residents with their passions through specialized non-pharmacological treatments, sensory activities, memory stimulation and other therapeutic experiences. Our residents also benefit from the Keys to Dementia Care program–a phenomenal, data-driven curriculum created at Menorah that leverages the power of music to reconnect people with memories.
The MJHS Memory Care Residence is supported by our Foundation, grateful families and our employees.
Hospice Care
Provided for residents who have a life-limiting illness. Menorah residents can receive hospice care in a more specialized area of our campus at our Mollie and Jack Zicklin Residence. Our Zicklin Residence offers patients and families private and intimate suites so they may spend quality time together.
The opportunity to laugh, smile and be active should never be underestimated. From live music and dance to art and cooking classes, there's an endless array of activities to enrich the lives of our patients and residents.
Menorah offers a variety of conveniences and amenities designed to enhance comfort and improve recovery, such as flexible visiting hours, free on-site parking, spiritual support, and barber and beauty salon services right on-site.
Mealtimes are especially important at Menorah. Great food shared with good friends is essential in creating a sense of community. Menorah offers a complete menu program deliciously prepared by our professional staff. Mealtimes are always a highlight.
For residents with special nutritional requirements, a registered dietitian helps to plan a personal menu that fulfills dietary needs. Specialized diets are also provided based on physicians' orders. Dietary restrictions are also observed.
Getting Started with Menorah
How are services at Menorah paid for?
Menorah Center for Rehabilitation and Nursing Care is an approved Medicaid facility. Whether your physician recommends short- or long-term care, the services will be paid in part or in full by Medicare, Medicaid, managed long-term care providers (including HMOs), private insurance, or other third-party payers, as well as private pay.
Reach out today to schedule a visit. We're located on 10 beautiful oceanfront acres in Manhattan Beach, Brooklyn, and we're easily accessible from Long Island, Brooklyn, Manhattan and Staten Island.