Menorah Center for Rehabilitation and Nursing Care
Menorah Center for Rehabilitation and Nursing Care provides short-term, subacute rehabilitation and long-term nursing care. We take pride in being a not-for-profit, state-of-the-art center run by highly trained professionals. Menorah is located on 10 acres of gorgeous oceanfront property in Manhattan Beach, Brooklyn.
We invite you to visit our center, walk the grounds and speak with our staff, patients and residents. You will find our core values — compassion, dignity and respect — evident in all we do. If you are unable to visit us in person, we urge you to take a virtual tour.
Get on the Road to Recovery at Menorah There is no better way to continue your recovery than with our individualized subacute rehabilitation program at Menorah. In our state-of-the-art center, you'll receive intensive restorative therapy in an encouraging and compassionate environment. We offer equipment primarily found in hospitals, such as computerized balance testing and Omnicycles. Menorah also offers education and counseling to help you adjust to everyday life after experiencing a change in physical condition. In addition, Menorah is one of the few subacute rehab centers to offer private rooms while you are receiving rehab. Whether you are recovering from surgery, a stroke, joint replacement or a complex respiratory or prolonged illness, we are committed to helping you regain as much strength and functionality as possible so you can return safely home and resume an active lifestyle.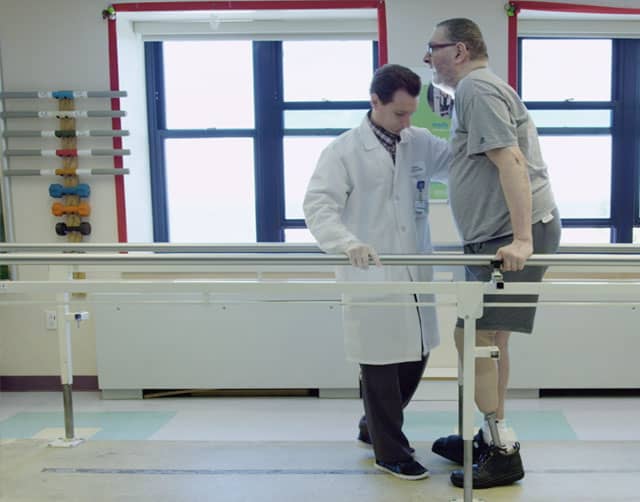 Our Rehabilitation Team
Our therapists are New York State-licensed and registered physical therapists, occupational therapists, speech and swallowing pathologists, and audiologists.
For those who can no longer live safely on their own, our outstanding skilled nursing center provides round-the-clock personalized long-term care. Menorah provides our residents with a home away from home that offers medical and emotional support, specialized programs, a stimulating social environment (great food) and a community built on respect. Each resident is assigned to a physician who develops a comprehensive plan of care. The residents can also count on an interdisciplinary team of professionals from diverse fields.
Primary Care Physicians
Nurses
Case Managers
Physical and Occupational Therapists
Speech and Swallowing Pathologists
Respiratory Therapists
Recreational Therapists
Post-surgical Wound Specialists
Dietitians
Social Workers
Discharge Planners
Our nursing staff plays a critical component in the care of our residents. Every floor has a nurse manager who supervises the floor's activities, in addition to the daily clinical aspects of residents' lives. Each resident's long-term care plan is customized to meet their needs and preferences and is delivered round-the-clock by our skilled nursing team.
Our nursing staff includes:
Nurse managers
Registered nurses (RNs)
Licenses practical nurses (LPNs)
Certified nursing assistants (CNAs)